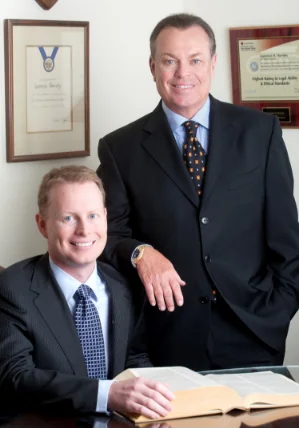 Orlando Personal Injury Attorneys
Since 1950, the Hornsby family has represented our fellow Central Floridians and their families who have suffered personal injuries as a result of auto accidents and other negligence claims. James Russell Hornsby, a well-respected and colorful attorney known for his aggressive but intelligent courtroom demeanor founded the family firm in 1950.  Hornsby's style once was likened by attorneys interviewed by The Orlando Sentinel in 1979 to a cross between that of a Southern gentleman and an avenging angel "who will shred to smithereens any witness who dares to say things that hurt his client."
His son, Larry Hornsby, continued that tradition in 1976 when he established his own practice focusing on representing individuals suffering personal injuries.  Larry Hornsby has earned an AV Preeminent Rating, the highest possible rating for ethical standards and professional legal ability, from Martindale-Hubble.  Today, Hank Hornsby, recognized by Thompson Reuters as a SuperLawyer®, a recognition given to only the top 5% of attorneys in the state of Florida, continues the family tradition.
To this day the firm stays true to its philosophy and commitment to providing quality and unique legal representation to its clients, contact our experienced Orlando personal injury attorneys today.
Firm Philosophy + Commitment to Quality Representation
Personal Contact + Attention:  We believe that you should meet personally with the attorney that will handle your case.
Focus on You + Your Needs:  We focus first on you and what your concerns and goals are and then construct a thorough plan together with your input to address your problems and set goals for your case.  Once this is done, we are better able to aggressively pursue your goals.
Up-Front + Honest Communication:  From the very beginning, we have a frank conversation with you about the realities of your case, both good and bad.   We believe the most important service we can provide is to be upfront and honest with you about the challenges that lie ahead.
Understanding That All Cases Are Not The Same: We understand that an injury or lawsuit does not just affect you, it affects your husband, your wife, your children, your family, your career, your life.  We devote attention to the specific details of your case and adjust our strategy accordingly to pursue the best possible result for you.
There Is No Shame In Seeking Legal Help:  We strive to help you move on with dignity and get your life back on track.  You should never feel ashamed to speak with our firm about your case.  Our communications with you are confidential and our door is always open.
Efficient, Effective Legal Representation You Can Trust
At the Hornsby Law Group, our personal injury attorneys bring 50 years of combined experience to assist clients with their legal needs, providing aggressive, effective legal representation to the people of Orlando for generations. Whether you've been injured in an accident or as the result of negligence, been hurt on the job, or are involved in financial or insurance disputes, we have the legal knowledge and experience to ensure you get the results you need. Our experienced Orlando personal injury, workers' compensation, and business law attorneys have a proven history of providing clients with diligent, dependable legal representation, while ensuring they get the client service they deserve.
When you have pressing legal concerns, you want to know that you will get the kind of personalized attention necessary to get a favorable result. At Hornsby Law Group, we take the time to thoroughly review every detail involved in your particular case, and diligently work with you to get the best possible result. Our experienced Orlando personal injury attorneys will fight for your rights, and help you to recover the maximum amount of compensation allowed by law.
We have built a successful legal practice representing clients in the following areas:
Auto Accidents
Automobile accidents result in serious, even life-threatening injuries. The effects of these injuries can linger long after the accident and require ongoing medical care and treatment. If you have been injured in an automobile accident, contact Hornsby Law Group. While you may be feeling pressure from an insurance company to settle your claim, it is important to remember that insurance companies have one goal-to make themselves money. Our experienced Orlando auto accident attorneys will represent your best interests, using their legal knowledge and experience to get you the maximum compensation you deserve for your injuries, including medical expenses, lost wages, and pain and suffering.
Truck Accidents
Accidents involving trucks and tractor trailers often result in severe injuries and extensive property loss. The large size and weight of most trucks contributes to the extent of the damage these accidents can cause. If you are involved in this type of accident, you will likely find yourself facing a trucking company that will do whatever it takes to protect their assets and their drivers. At the Hornsby Law Group, our experienced Orlando truck accident attorneys provide the fierce legal representation in seeking damages from these trucking companies. We will make sure at fault drivers are held responsible, and that you get the compensation you deserve for your injuries.
Motorcycle Accidents
Motorcycles offer little protection in the event of an accident, and motorcycle accidents often end up causing severe, potentially disabling injuries. At Hornsby Law Group, we understand the serious nature of these injuries, as well as the potential impact your injuries can have on your life and livelihood. Our experienced Orlando motorcycle accident attorneys will work aggressively to ensure that your rights are protected, and that your future needs are provided for.
Slip and Fall Injuries
Slip and fall injuries are considered some of the most common forms of accidental injuries. Often, these injuries are not an accident at all, but are instead the result of someone's negligent or reckless actions. At Hornsby Law Group, we know the serious ramifications that can result from these types of injuries. Even a seemingly mild injury can have serious impacts on your quality of life, and limit your ability to do the things you once enjoyed. Our experienced Orlando slip and fall accident attorneys can help ensure you get the compensation you deserve to cover current and future medical expenses, lost wages, and the pain and suffering caused by your injury.
Medical Malpractice
Medical malpractice cases often involve extensive damages, and require a skilled and knowledgeable attorney who will aggressively represent your best interests. At the Hornsby Law Group, our experienced Orlando medical malpractice attorneys understand the serious injuries that are often the result in medical malpractice cases. We will help hold responsible parties accountable for their negligent actions, and get you the compensation you need to recover.
Wrongful Death
Having a loved one die as the result of someone's negligent or reckless actions is a devastating loss, and has an enormous impact on the surviving family members and friends. At a time like this, you need an aggressive attorney looking out for your best interests, and ensuring that your family is provided for. At Hornsby Law Group, we understand the pain your family is going through as a result of this tragedy, and that no amount of money can make up for the loss of your loved one. Let our experienced Orlando wrongful death attorneys help your family during this painful time, and help ensure your family is provided for. We offer compassionate, caring client service, while providing the legal representation you need to protect your loved ones.
Workers' Compensation
If you have been injured on the job, you have a right to receive workers' compensation benefits to cover your medical expenses, as well as to compensate you for lost wages, both now and in the future. At Hornsby Law Group, we understand how an on-the-job injury can have devastating consequences to your health and your finances. Contact our experienced Orlando workers' compensation attorneys today to ensure you get the benefits you deserve.
Damages and Compensation
Accidents can give rise to a variety of temporary or permanent medical conditions, and result in medical expenses, lost wages, and pain and suffering, sometimes indefinitely. Some of the more severe injuries include:
Traumatic brain injuries;
Spinal cord injuries;
Paralysis;
Broken bones;
Burns;
Internal bleeding; and
Others.
Perhaps what is most frightening after these incidents is simply that someone may not realize that they are injured until some time has passed, thus, getting a thorough medical evaluation after you have been in any kind of accident is always a good idea.
Negligent Parties
Negligent parties are not limited to individuals; in fact, often someone is injured due to a variety of parties that can include companies, contractors, individuals, manufacturers, local governments, doctors, hospitals, hospital staff, employers, and others. All of these parties can be named in a personal injury lawsuit, if necessary.
Timing
Every state has what's called a statute of limitations, or a limited timeframe in which you can bring your claim. Personal injury victims typically have four years from the time of the incident to bring their claim in court.
Orlando Personal Injury Lawyers with Decades of Experience
The Hornsby Law Group has been representing clients in personal injury claims for decades in Orlando and surrounding areas throughout central Florida. Whether the injury (or wrongful death) is due to an auto-related accident (including those involving trucks or motorcycles), workplace injury, medical malpractice, slip and falls, or related areas, we are here to ensure that you and your loved ones are protected and receive the compensation they deserve. Contact our Orlando personal injury attorneys today for a free consultation and let us get started helping you achieve justice.