Florida Slip-And-Fall Accidents Seriously Harm Elderly Plaintiffs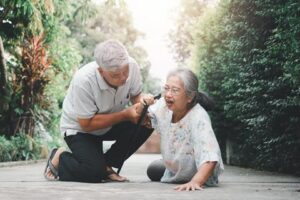 Anyone can slip and fall at some point in their life, but falls are much more serious for certain age groups. For example, the Centers for Disease Control (CDC) estimate that approximately 1 in 4 elderly people fall each year, and of that amount, 1 in every 5 sustains a severe head injury. Because of this, any slip-and-fall accident involving a person over the age of 65 can be extremely serious.
Is The Owner Liable?
There are several possible reasons for a slip-and-fall accident to occur, from broken flooring to insufficient lights to water (or other slippery substances) on the floor. Accidents may also occur as a direct result of the landowner or business owner's failure to warn visitors of a potentially dangerous condition – liability may result because owners usually have a duty to keep their premises in reasonably safe condition.
Sometimes, an accident cannot be laid at the fault of the owner – the dangerous condition may wind up being the fault of another party. However, an area of Florida law called premises liability states that if an owner fails to maintain their premises in a safe enough condition, any injured party may be able to hold them liable for their negligence. If the injured person is not a trespasser, the owner may be held responsible for their injuries.
The Eggshell Plaintiff Rule
The law of premises liability recognizes three groups of visitors – invitees, licensees, and trespassers. Invitees are the most common type in most situations. Landowners owe the highest duty to invitees, being required to either make their property safe, or to warn them about potential dangers. Failure to do so can mean liability if an invitee is injured.
That said, it is important to be aware of what is known as the eggshell plaintiff or eggshell skull rule. As of the last U.S. census, roughly 21 percent of Florida's population is over the age of 65, which is the highest percentage in the country. It is a truism that many elderly people may have preexisting medical conditions, which can make injuries worse. The eggshell plaintiff rule states that if a plaintiff is more severely injured than a 'normal' plaintiff would be due to a preexisting condition, the defendant cannot claim this as an excuse not to compensate them for their injuries.
Contact An Orlando Slip-and-Fall Accident Attorney 
Slip-and-fall accidents can be serious for anyone, but for some elderly people, it can be more so. If you have been injured in a slip-and-fall accident due to another person's negligence, contacting an Orlando slip-and-fall accident attorney from the Hornsby Law Group can help you decide how best to proceed. Call our office today for a free consultation.
Source:
cdc.gov/falls/facts.html