Pedestrian Accidents In Florida Cities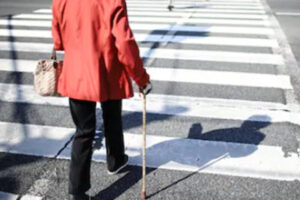 Florida is a state with much of its population concentrated in its cities – data from Iowa State University estimates that 91.2 percent of Floridians lived in urban areas as far back as 2010. Because of this, cities are sometimes a dangerous place for pedestrians, particularly those on foot (as opposed to those using bicycles or scooters). Those who enjoy walking in Florida's cities run the risk of being injured by a negligent car or truck driver who may not be driving as defensively as they should. If you are so unfortunate as to be injured in this type of accident, you may be able to file suit against them for your damages.
Florida Is Dangerous For Pedestrians
There are many different potential reasons for pedestrian accidents in Florida's metropolitan areas, but aside from overcrowding, one of the most often cited is a lack of pedestrian infrastructure. SmartGrowth America, an urban planning think tank, has consistently rated Florida among the most dangerous places to be on foot, with a plethora of dangerously designed urban area and a failure to plan for the needs of pedestrians (for example, a lack of crosswalks, traffic signals in poor locations, and a lack of curb cuts or even sidewalks).
It is also worth noting that SGA's data show certain groups overrepresented in the injury and fatality counts; namely, the elderly, the disabled, and minority groups, who are more likely to live in congregated areas where infrastructure is poorly maintained. While this is not evidence of liability all on its own, it can be persuasive evidence when discussed in the context of accidents, particularly accidents that mimic this pattern.
Filing Suit
If you have been injured in an accident with an automobile while you were on foot, it is understandable that your first priority should be physical recovery. However, it is often worth your while to file suit, particularly if your injuries are severe. Motorists have a duty to exercise reasonable care vis-a-vis the other people using the road along with them, and a failure to exercise that care means a driver may be dangerous to everyone they encounter. Seeking financial redress, as well as closure, may be a good option for you and your family.
One thing to be aware of is that if you have experienced this type of accident, but you own and operate a vehicle on Florida roads, you may have to file a claim with your personal injury protection (PIP) insurance instead of filing suit. Florida has a no-fault auto insurance system, which means that unless your injuries are "significant and permanent," you are required to file an insurance claim instead of a lawsuit. This is true even if you are not in your car at the time of the accident.
Contact An Orlando Pedestrian Accident Attorney
Because of the sheer disparity in size and speed, pedestrians involved in car accidents often wind up suffering severe, life-changing injuries. If you have been so unlucky as to be involved in a pedestrian accident, contacting an Orlando personal injury attorney from the Hornsby Law Group can help you understand your options and give you the information you need to make the best choice for you and your family. Contact our offices today for a free consultation.
Sources:
flsenate.gov/Laws/Statutes/2020/627.737
icip.iastate.edu/tables/population/urban-pct-states