Texting & Driving Is Against The Law In Florida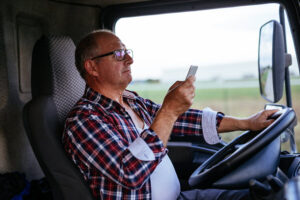 It is no secret that texting while driving a motor vehicle is one of the most dangerous activities a person can do on the road. However, people continue to do it – a survey reported on Forbes Magazine's website states that as many as 40 percent of licensed drivers admitted to reading a text or e-mail behind the wheel in the month previous. This attitude only contributes to the persistence of injuries and accidents caused by distracted drivers. If you have been injured by someone you believe was texting and driving, you have the right to seek damages for what you have been through.
The Law Is Clear 
Florida's law on texting and driving is fairly explicit – it states that a person may not operate a motor vehicle while "manually typing or entering multiple … characters into a wireless communication device." In addition, if there is an accident involving death or injury, the law states that the billing records for a wireless device are immediately admissible evidence in the hearing or trial determining liability.
It is important to be aware that texting and driving is not, in itself, a criminal offense; rather, it is classified as a 'non-criminal traffic infraction' or a moving violation. However, texting and driving is very often grounds to establish civil liability, opening a negligent driver up to a potentially large jury award if their actions harmed another person. In short, texting and driving will almost never result in jail time, but it can result in significant civil liability that can break the proverbial bank.
Be Certain You Can File
Florida is a no-fault state for auto insurance purposes, meaning that car accident cases that do not involve "significant and permanent" injury must be handled by filing a claim with one's personal injury protection (PIP) insurer instead of pursuing a lawsuit. If your injuries are significant and permanent, you may file suit in court like normal, seeking damages for harm such as medical expenses, lost wages, and mental anguish.
Be aware that it can sometimes be difficult to establish that an allegedly negligent driver was texting while driving, though it is not impossible. Sometimes, phone records will reveal a pattern; other times accident reconstruction may shed some light. Either way, it is best to enlist professionals to help guide you through the legal process, particularly if your injuries are severe.
Contact A Winter Park Auto Accident Lawyer
Distracted driving comes in many forms, but texting while driving is consistently ranked as the most dangerous because of how long it takes one's attention off the road. If you have been injured by an author who was texting and driving, calling a Winter Park auto accident lawyer from the Hornsby Law Group may be your first step toward getting the compensation you deserve. Contact our office today for a free consultation.
Source:
forbes.com/advisor/car-insurance/texting-driving-statistics/