Business Trip Injuries Can Be Compensable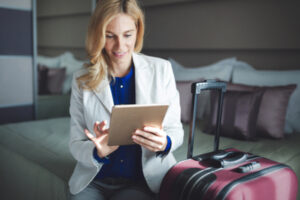 Not many business trips are occurring during the current COVID-19 pandemic, but they are normally an integral part of certain professions, especially in businesses that serve large areas. However, they place an employee on unique legal ground if they are injured – while in theory, they are acting for their employer, they may not be engaged in activities that would entitle them to receive workers' compensation. Each case is different, and an attorney can be helpful in determining whether you have a case or not.
Are You On The Job?
Workers' compensation law in Florida states that if an employee is performing work "in the course and scope of employment," and they are injured, they may be able to file for workers' compensation, as long as the work activity is the major contributing cause of the harm you suffered. In other words, if you injure your back on the job, and you had no prior back problems that might have secretly caused your pain and suffering, you can probably file for workers' compensation.
Normally, accidents that happen during commute or travel time are not considered covered by workers' compensation – during those moments, most employees are not, at least in theory, acting within the 'course and scope' of their employment; their employer's control over their actions has not begun. However, a longer period of travel time as one usually has on a business trip is a different matter. Because a person is deliberately traveling at their employer's behest, they are seen to be acting within the course and scope of employment unless they do something demonstrably and obviously not work-related.
Disclose ASAP
While travel time will often be covered under your employer's workers compensation insurance, actual activities during the business trip are often less cut and dried. Generally, if you can establish that you are acting within the scope of your employment during an activity, any injuries that happen at that point will be covered. Dinner with potential clients is usually a work activity; however, a visit to a nightclub afterward alone will usually be seen as a "frolic" or other personal time, even though you are still on a business trip.
The most important thing to keep in mind if you are injured during a trip is to inform your employer what happened as quickly as possible; do not even wait until your trip has concluded, if possible. Florida has a notice requirement, which means that an employee must tell their employer about their injury within 30 days, or a petition to receive workers' compensation benefits will be barred (with rare exceptions). 30 days may seem like a long time, but it can fly past before you know it – the sooner you advise your employer of your injury, the sooner you can start the process of receiving compensation.
Call An Orlando Workers' Compensation Attorney
Business trips may become less frequent over time, but as long as they are considered integral to some industries, it is a good idea to be aware of what rights you have while you are out on the job. An Orlando workers' compensation attorney from the Hornsby Law Group can help you through the workers' compensation process. Call our offices today for a free consultation.
Resource:
leg.state.fl.us/Statutes/index.cfm?App_mode=Display_Statute&URL=0400-0499/0440/Sections/0440.02.html
https://www.hornsbylawgroup.com/workers-compensation-in-the-construction-industry/