Navigating Workers' Compensation Liens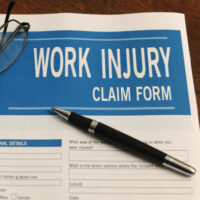 The majority of workers in Florida are covered under their employers' workers' compensation insurance policy if they are injured on the job. If they are hurt, they file a claim with their employer and receive benefits. However, if a third party is involved, the process can become much more complex. If you are in an accident involving a third party while you are on the job, you may be able to receive both personal injury damages and workers' compensation benefits – but one must be repaid from the other.
No Double Recoveries
In a normal instance where a worker is injured on the job, they file a claim with their employer and then go through the state process to receive benefits and medical treatment. However, if they are injured in an accident with a third party, they may be entitled to damages from that third party – the most common instance of this is when a worker is involved in a car accident while on a task or errand for their employer. In this type of case, the worker would bring suit or file with their auto insurer for reimbursement for their bills (given that Florida is a no-fault state in terms of auto accidents).
However, once workers' compensation benefits have been granted, it creates an obligation to reimburse the employer (or their insurance carrier) for its outlay. This obligation is referred to as a workers' compensation lien. It is capped at the amount of the worker's net recovery – in other words, you will not wind up owing your employer money simply because your accident involved a third party. But in Florida, an employer has a right to recover so as to ensure no double recoveries for employees, rightly or wrongly.
The Manfredo Formula
Sometimes, a workers' compensation lien will be waived by the employer, in exchange for settling the claim for less than they might otherwise. However, when employers do not waive their liens, determining just how much of a worker's recovery should go toward the employer and how much the employee can retain. The method by which this is determined is called the Manfredo formula, after a Florida Supreme Court case, though it is an extremely difficult formula for the average person to use.
Essentially, if you are injured on the job due to the actions of a third party, it is important to be aware that any damages you receive will likely have to be repaid to your employer's workers' compensation carrier. Too many people do not plan for this possible eventuality, and if you do not, you may wind up owing money you did not expect unless an agreement can be reached. It is important to be aware of both your options and your obligations.
Contact An Orlando Workers' Compensation Attorney
If you have been injured, you need to be sure that you are aware of your rights. The Orlando workers' compensation attorneys at the Hornsby Law Group can sit down with you and help to answer any questions you may have about these issues. Contact us today for a free consultation.
https://www.hornsbylawgroup.com/workers-compensation-and-the-construction-industry-2/