Workers' Compensation & The Florida Construction Industry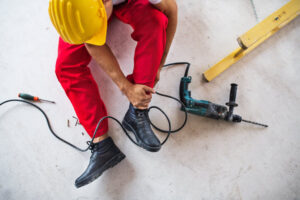 In general, Florida requires most employers to carry workers' compensation insurance so that if their workers are injured on the job, they are entitled to collect benefits while they recuperate. That said, some industries have more specialized regulations surrounding on-the-job injuries; construction is chief among them. Employers in the construction industry are required to carry workers' compensation insurance in most cases, but if you have been injured at work, it is a good idea to check both your status and your boss's status before filing your claim.
Many Trades In "Construction"
Florida law defines the construction industry as containing any "for-profit activity" including "building, clearing, filing … or substantial improvement" in the size or use of a structure or the land one is on. The state Division of Workers' Compensation has a list of all the trades that are considered to be in the construction industry (and thus subject to state regulations for that industry).
If you have been injured on a construction job, you generally have the right to seek workers' compensation benefits in Florida. This is true even if you played some role in your own injury – the system is "no-fault," meaning that as long as you did not deliberately cause the injury, benefits are likely to be granted (though not always guaranteed). This is in exchange for waiving the right to sue your employer over the injury.
Definition Of "Employee" Is Wide
Because the industry is so hazardous, regulations on workers' compensation are strict – most notably, this can be seen in how state workers' compensation law defines the word "employee." In Florida, the word "employee" has a markedly different definition in construction than in most other industries. It specifically includes both independent contractors and subcontractors (unless exempted).
Contractors, in general, have a duty to ensure that both their subcontractors and the employees of their subcontractors have access to workers' compensation coverage. The law is so clear on this duty that a contractor can actually be fined – not for non-compliance, but for failing to confirm compliance. The construction industry has so many potential hazards that benefits for employees are seen as crucial, both for morale and to keep the industry going.
Contact An Orlando Workers' Compensation Attorney
If you work in the construction industry, and you have been injured at work, know that you have the right to seek workers' compensation benefits even if you are classified as an independent contractor. An Orlando workers' compensation attorney from the Hornsby Law Group can help answer any questions you may have about your case. Call us today for a free consultation.
Source:
myfloridacfo.com/division/wc/employer/coverage.htm