Burn Injuries In Florida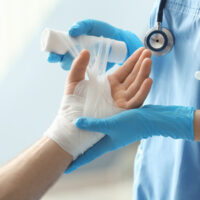 Whether in house fires, auto accidents, electrical repair mishaps, or any other situation, burn injuries are extremely common in sudden and accidental injuries in Florida. While most people imagine burn injuries to come from house fires or hot stoves, they can in reality happen in far less common circumstances, and they can cause serious, long-lasting harm to a person, who may need months or years to recover. If you have sustained serious burn injuries, you may be able to seek compensation from the person who caused them.
Burns Are Common & Severe
The American Burn Association estimates that roughly 486,000 burn injuries received hospital medical treatment in 2016 (the most recent available data), with countless more being minor enough to be treated at home or by general practitioners. 40,000 hospitalizations occurred as a result of the more serious burns, with slightly more than two-thirds of those admissions being male. While the survival rate was high – 96.8 percent – it is still worth noting that many burn injuries leave lifelong scars and inhibit mobility.
The strong majority of burn injuries that caused admission to hospital burn units were related to either direct fire/flame (43 percent) or scalding from hot liquids or steam (34 percent), with other types of burns only ranking in the single digits. This does not mean that other types of burns cannot be very serious – electrical burns can kill, and chemical burns can also cause long-term negative effects. Any type of burn can cause a major life change for you that may merit compensation.
Enlist An Attorney Quickly
Like with any other injury, significant burn injuries can lead to other complications, such as breathing problems, heat or cold sensitivity, and limited mobility. A large part of many awards in burn injury-related cases will also be for things like pain and suffering and loss of future earning potential. Depending on the nature of your injury, it can be difficult to determine who to bring suit against, especially if there may be more than one actor that caused you harm. Most burn victims simply want to be left alone to recuperate.
However, seeking compensation can make all the difference to your family in terms of paying off bills and getting to a point where money is not a constant worry. It is also generally important to do so quickly – Florida law allows four years from the date of the accident in which you can bring suit based on negligence, and that time passes much faster than most people believe it will. An experienced attorney knows what to look for and what to establish, and can take a lot of the burden off you and your family while still trying to get you the justice you deserve.
Contact An Orlando Burn Injury Attorney Today
Burn injuries can be life-changing, and the temptation is often there to simply focus on recuperation. You deserve better than to let the person who injured you get away scot-free – contacting the Orlando personal injury attorneys at the Hornsby Law Group can help put us on the case to help get you what you need. Contact our offices today for a free consultation.
Resource:
leg.state.fl.us/Statutes/index.cfm?App_mode=Display_Statute&URL=0000-0099/0095/Sections/0095.11.html
ameriburn.org/who-we-are/media/burn-incidence-fact-sheet/
https://www.hornsbylawgroup.com/traumatic-brain-injuries-in-florida-accidents/