Can I Receive Workers' Compensation For Workplace Violence?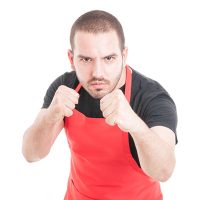 Data from the Occupational Health & Safety Administration (OSHA) states that for some time, the third most leading cause of fatal occupational injuries in the United States was workplace violence. The figures remain high today, and it is always a good idea to be aware of the possibility, though obviously some industries remain more dangerous than others. If the unthinkable happens and you are assaulted on the job, there are some situations in which your employer may be liable for your injuries.
A Known vs An Unknown Assailant
In most cases, workers' compensation is the exclusive remedy available to an employee who is injured during the course of their employment. Essentially, employees give up the right to file civil lawsuits against their employers if they are injured, in exchange for medical benefits being paid for if an injury does occur. However, there are exceptions to this rule.
Workplace violence is, as one might imagine, any threat or act of violence that is made against a person while they are working. It can be perpetrated not only by a superior or coworker, but also by a customer or visitor to your workplace. If you are injured by a known assailant at work, it is that person who will be held liable (and possibly found criminally guilty) for the offense – but if the assailant is unknown, your employer may be found civilly liable if certain criteria apply.
Failure To Provide A Safe Working Environment
If you are at work, and are injured by an unknown assailant, you may in some situations be able to file a claim against your employer for failing to provide a safe working environment. Many claims are filed under a theory known as negligent security, which holds that an employer has an obligation to provide a safe workplace, and to take steps to prevent foreseeable threats.
In general, if an employer knew or should have known about the potential for workplace violence, but failed to take steps to try and prevent it, they may be held liable for your injuries. This is one of the exceptions to the 'exclusive remedy' rule, since the employer's alleged negligence invalidates the 'bargain' of workers' compensation.
Contact A Winter Park Workers' Compensation Attorney
Most of the time, an injury at work leads to a workers' compensation claim simply because workers have no other options for seeking benefits. However, a Winter Park workers' compensation attorney from the Hornsby Law Group can help you determine exactly what the best path might be for you and your family after an injury. Call our office today for a free consultation.
Source:
osha.gov/workplace-violence