Florida Slip and Fall Accidents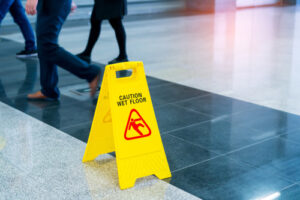 Everyone has the potential to slip and fall from time to time. However, sometimes a slip and fall can happen because of someone else's negligence. If you are in this position, and you have been injured, your medical bills can add up; trying to hold the negligent person accountable can help get them paid while you focus on recovery. You need an experienced attorney to help navigate your case through the court.
Falls Can Be Fatal
While they disproportionately affect the very young and very old, falls can cause serious injuries and even death in those of all ages, with the Centers for Disease Control (CDC) estimating that 1 in 5 falls result in a serious injury like a broken bone or traumatic brain injury (TBI) – falls are among the most common causes of TBIs in particular. CDC data also shows that as many as 800,000 patients are hospitalized every year with fall-related injuries, most often head injuries or hip fractures.
Many falls occur in the home, but quite a few happen in public places like grocery stores, restaurants, and theaters. If you fall at home, very often the only person you can blame is yourself – but landowners and business owners have a duty to exercise reasonable care with regard to the people who might come onto their property. If you are able to show that the business owner neglected that duty, you may be able to recover compensation for your injuries, though certain requirements have to be met.
Statutory vs Common-Law Liability
In some states, if a person is injured in a public place, they can rely on the common-law theory of premises liability to hold the business owner or landowner liable. Premises liability is a theory that assigns different levels of care to the different types of people who might visit property – for example, a landowner owes a higher duty of care to an invitee than they would to a trespasser. Florida does honor this theory in most cases – but not in slip-and-fall cases. If a person slips and falls on a "transitory foreign substance" in a business, they must prove that the business had "actual or constructive knowledge" of the substance and should have tried to remedy it.
In short, the law holds that if you slip on something in a business, you must show that the business either knew or should have known about it, and should have tried to fix it. This places a very heavy burden on an injured plaintiff who might not have been in the business for more than a few minutes before slipping. However, it is still possible to hold a business liable in the right situation; having an experienced attorney on your side can help.
Call An Orlando Slip-and-Fall Attorney
Slip and fall accidents can alter someone's life in an instant. If you find yourself in this situation, you need a dedicated and compassionate Orlando slip and fall attorney who can help guide you through the court system, and give you the best chance to get the compensation you deserve. Contact The Hornsby Law Group today for a free consultation.
Resource:
cdc.gov/homeandrecreationalsafety/falls/adultfalls.html
https://www.hornsbylawgroup.com/amusement-parks-and-personal-injury-liability/