Liability In Florida Trucking Accidents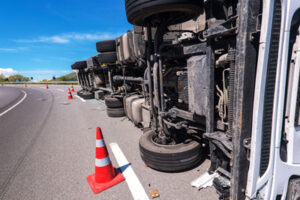 The most recent available data from the Federal Motor Carrier Safety Administration (FMCSA) estimates that approximately 499,000 police-reported crashes that involved large trucks occurred on U.S. roads that year. Approximately 33,000 of those were in Florida, with around 5 percent of those resulting in injury or death. If you have been so unfortunate as to be among that 5 percent, you likely have serious injuries, and medical bills may be mounting – be aware that you likely have options in terms of who to hold liable in the event of a truck accident.
Most Related To Driver Error
In the event of an accident involving a large truck and an automobile, it is almost always the driver of the automobile who suffers the most severe injuries. There are several reasons for that – not least of all the sheer weight disadvantage between a standard car and a large truck – but in general, statistics show that a majority of truck accidents are caused by driver error on the part of the trucker. This means that they may have marginally more time to react than an automobile driver, who is very often ambushed.
Other causes for accidents involving large trucks include equipment or vehicle defects, violation of federal hours of service regulations (that is, driving for longer than is recommended by safety guidelines), and inclement weather. However, the majority of accidents involving large trucks have a cause that can be traced back to driver error – issues like speeding, distracted driving, or failure to maintain the truck can all be laid at the driver's door. That said, they may also be laid at the door, so to speak, of one or more other people, depending on the specific facts of your situation.
Other Potential Defendants
Unlike in accidents between two private individuals, an accident case involving a large truck has the potential to include multiple defendants. In the majority of situations, if a large truck is on the road, it is either on its way to deliver cargo, or returning from having done so – thus, the trucker is on the proverbial clock. This is called acting "within the course and scope" of one's employment. Florida recognizes the doctrine of respondeat superior, or vicarious liability, which holds that if an employee commits a tort (the civil equivalent of a crime) while acting within the scope of their employment, their employer may be held liable for the alleged victim's losses.
If your accident can be traced to a component's defects, such as weak tires or a malfunctioning engine, you may also be able to file suit against the manufacturer of that component (or against the truck's manufacturer). That said, the trucking industry is protected by a honeycomb of laws that help it to avoid liability. Having a dedicated attorney on your side who has handled this type of case before is the best way to increase your odds of success in court.
Call An Orlando Truck Accident Attorney
Being involved in a truck accident can upend all aspects of your life, from your health to your finances. If your accident happened because of the negligence of another person, contacting an Orlando truck accident attorney from the Hornsby Law Group may be the first step toward settling the issue and getting the compensation you deserve. Call our offices today for a free consultation.
Resource:
leagle.com/decision/inflco20120801175
flhsmv.gov/pdf/crashreports/crash_facts_2018.pdf
https://www.hornsbylawgroup.com/can-i-file-a-lawsuit-after-an-auto-accident-in-florida/