Accidents With Large Trucks On Florida Roads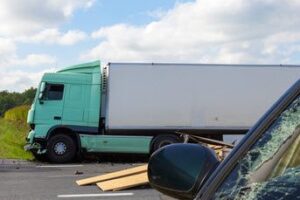 Large trucks are omnipresent on Florida roads, and while most of them are driven safely and professionally, those that are not wind up causing significant, even life-changing injury, to those unfortunate enough to be accident victims. While each accident may have a completely different cause, it is important to understand that you have the right to seek compensation for your injuries if you suspect that the truck driver was negligent in causing them. Consulting an experienced attorney can help to clarify matters.
Many Accidents Due To Negligence
The most recent available data from the Federal Motor Carrier Safety Administration (FMCSA) shows that from 2009 to 2019, the number of fatal crashes involving large trucks or buses increased by 47 percent, though 2018-2019 showed by far the smallest percentage increase (less than 1 percent). There may be several different reasons for this, including a loosening of hiring requirements in the trucking industry, but regardless, the rate of injury and death in truck accidents has become higher and higher.
Some of the most common immediate causes for truck accidents involve drivers failing to take care of themselves – for example, some truck drivers ignore the FMCSA's Rules of Service which regulate how many hours in a row a trucker can drive, which may lead to being extremely fatigued behind the wheel. Other crashes may happen due to speeding or other aggressive maneuvers – but regardless, all of these behaviors may fall under the umbrella of negligence, for which a driver may be held accountable.
You Can File Suit
Because of the size and weight of large trucks, anyone involved in an accident with one of them is much more likely to sustain serious injuries like spinal cord fractures or traumatic brain injuries. This means that injuries sustained in a truck crash are more likely to overcome Florida's severity threshold, meaning you can file suit in court against the defendant instead of having to pursue compensation through the state's no-fault auto insurance system. (Cases involving minor injuries are required to be handled through insurers instead of in court, ostensibly to clear up district court dockets.)
Be advised that every truck accident case is truly different, meaning that it is impossible to 'guess' or 'estimate' at the amount of damages you may be able to recoup. However, if the truck driver (and possibly their employer, in certain situations) is held liable, you are generally entitled to receive not only reimbursement for medical bills, but also possibly damages for lost wages, loss of quality of life, and mental anguish or pain and suffering. A truck accident can take a lot from you; the law allows you a chance to recover at least some of it.
Contact An Orlando Truck Accident Attorney
Being involved in a collision with a large truck can completely upend your entire life, causing serious damage and essentially sidelining you from your own life while you try to recover. An Orlando truck accident attorney from the Hornsby Law Group can help you seek compensation for what you have been through, and handle the heavy lifting while you try to get your life back on track. We are happy to try and assist you; call us today for a free consultation.
Source:
fmcsa.dot.gov/safety/data-and-statistics/large-truck-and-bus-crash-facts-2019