Reasons For Workers' Compensation Claim Denial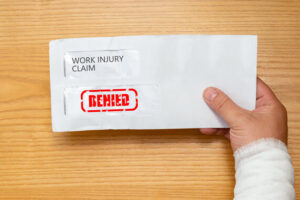 Unfortunately, not every workers' compensation claim will be approved, despite how badly an injured worker might need the care. Statistics from the Florida Department of Financial Services show that in 2020, 16 percent of claims did not receive benefits; while this may not feel like much, it is still thousands of people. If you are one of them, know that there are several different reasons why a claim is denied. You have the right to appeal a denial, regardless of the reason, but some of them are more difficult to surmount than others.
Late Filing. Florida law requires that if an employee is injured at work, they must report the injury to their employer within 30 days. A failure to do so means that any application for benefits can be refused. An insurer may still accept your claim if it is filed late, but the odds are against you – workers' compensation fraud is unfortunately all too common, and most insurers enforce the time limit as a way of eliminating potentially fraudulent cases.
Your Injury Is Not Covered. It may seem self-evident, but if your injury is not directly related to your employment, it will not be covered by workers' compensation. Very often, injuries might occur in a way that seems work related, but does not meet that definition under Florida law – for example, if your injury occurs while you are on your employer's premises, but not on the clock.
You Had A Preexisting Condition. In order to recover under Florida workers' compensation law, your injury must be what is referred to as the major contributing cause of your symptoms. However, if you had a preexisting condition, your claim might be denied because it is too difficult to establish what part of your symptoms already existed and what occurred after the workplace injury. Cases involving repetitive stress injuries (RSIs) like carpal tunnel encounter this issue frequently.
Not Enough Medical Evidence Was Presented. As one might imagine, a report of a workplace injury must come with extensive medical documentation – emergency room records, doctors' notes and findings, test reports and so on. If the evidence is insufficient, an insurer will decline the claim out of a fear of fraud. On appeal, however, more evidence may be introduced, and the insurer may reconsider.
You Caused The Injury. If there is any evidence that you played a role in causing your own injury, it is grounds for a quick denial from the insurer. Evidence of drug or alcohol use, or any deliberate intent to injure yourself, may also get you in trouble with your employer, in addition to torpedoing your claim.
If your claim is denied, you have the right to file what is known as a Petition for Benefits with the Office of the Judges of Compensation Claims. A hearing will be held, and at this hearing is the time to try and address any potential deficit in your original claim.
Contact An Orlando Workers' Compensation Attorney
If you are injured on the job, it is your right to apply for workers' compensation benefits. However, the process has specific requirements, and if they are not met, your claim may be denied. Enlisting an Orlando workers' compensation attorney from the Hornsby Law Group can help ensure that if you have a claim, it is presented correctly. Contact our offices today for a free consultation.