Workers' Compensation & Repetitive Stress Injuries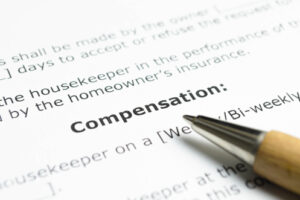 Most of the time, one imagines workers' compensation to cover injuries like falls or industrial accidents. However, in certain situations, an employee can also file a claim for workers' compensation if you have sustained a repetitive stress injury (RSI) while on the job. It can be difficult to prevail on this type of claim for many reasons, so enlisting a knowledgeable workers' compensation attorney is generally a good idea.
No Real Definition
Repetitive stress or repetitive motion injuries are caused, as one might expect, by repetitive motion. Perhaps the most common example is carpal tunnel syndrome in white-collar office workers, but there are several other types of common RSIs that can happen on the job. Examples include degenerative disk disease, tendonitis, gradual hearing loss, and rotator cuff problems. Essentially, any repetitive task where the body is not adequately protected can lead to an RSI, and if that task is performed on the job, the injury falls under the heading of workers' compensation.
There is no real accepted definition of an RSI, at least not in the same manner as the Occupational Safety and Health Administration (OSHA) defines most physical injuries, but Florida specifies that the link between work and the injury must be established conclusively before an employee can try to make a claim. OSHA does make recommendations to help avoid such injuries, but no specific definition is on the books as of this writing. As such, state law controls.
Major Contributing Cause
Repetitive stress injuries are somewhat unique in terms of filing for workers' compensation. Normally, if you, for example, slip and fall at work and break a leg, a direct causal link can be drawn between the accident and your injury. However, with an RSI, the symptoms increase (as does the discomfort) over time, and it can be very difficult to show how much of your suffering is due to repetitive stress from your job versus how much already existed.
Florida law states that in order for any injury to be compensable, it must be the "major contributing cause" of your incapacity or inability to work – that is, it must be at least 51 percent of the reason for your pain. Generally, the way to show this with RSIs is to consult a specialist in the field – someone who can at least illustrate a change for the worse in terms of nerve damage or inflammation, and providing as much information as possible as to the evolution of your injury. Having a workers' compensation attorney on your side can also make a fundamental difference in the outcome of your claim.
Call An Orlando Workers' Compensation Attorney
RSIs may not occur all at once, but the pain they cause is very real. If you have developed an RSI and you are seeking compensation for your bills, speaking to a dedicated Orlando workers' compensation lawyer at the Hornsby Law Group can be a great step in the right direction. Contact our offices today for a free consultation.
Resource:
osha.gov/SLTC/ergonomics/
https://www.hornsbylawgroup.com/workers-compensation-law-after-the-westphal-decision/