Distracted Driving Accidents In Florida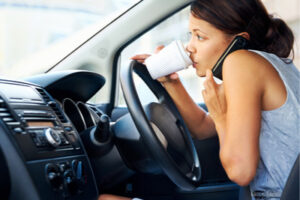 Floridians are just as attached to their smartphones and electronic devices as any other group of people, but because of the high levels of traffic on Florida roads, distracted driving accidents are somewhat more common than they might be in other states. If you are involved in an accident with a distracted driver, it can be difficult to prove that they were not watching the road, but it is worth trying to recover for your medical bills and the harm you suffered all the same.
Texting & Driving Kills
Distracted driving is, quite literally, anything that takes your focus off the road, even if for mere moments. While there are all manner of actions that can distract you away from driving, such as eating, talking to passengers, and adjusting the music or GPS, texting is generally perceived as one of the most dangerous possible distractions because it uses multiple senses that should be focused on the road.
The statistics on distracted driving establish a serious problem, with approximately 2,850 people killed in distracted driving-related crashes in 2018. Florida's statistics are difficult to interpret, however, because its law surrounding texting and driving has undergone significant alteration in the last few years. A 2017 study ranked Florida as the second-worst state for distracted driving, behind only Louisiana, but that placement was established when Florida only cited texting and driving as a secondary offense – in other words, law enforcement could not stop drivers texting unless there was another cause to stop them.
Serious Consequences
The actual charge under Florida's modified texting-and-driving law is a noncriminal violation, which does not add points to a person's driving record for a first offense. However, the minor civil infraction may be the least of a person's worries if their texting and driving leads to an accident. In addition to any civil lawsuit filed by an injured victim, someone may also face criminal charges if they leave the scene of an accident after causing injury or death.
If you are the injured plaintiff in this type of case, you can file a civil suit to try and recover for the harm you suffered, though it can sometimes be difficult to establish that someone has been texting and driving. Florida law does state that in the event of a crash that causes injury or death, a person's cellphone records will be admissible in court, which can help, but it is generally a good idea to enlist an experienced attorney to help you seek compensation for your injuries, instead of doing it alone.
Contact A Winter Park Distracted Driving Attorney Today
Distracted driving causes a disproportionate amount of injuries and fatalities on Florida roads, and if you are struck by someone who is texting and driving, you may be able to have your medical bills covered so that you can focus on recovery. The Winter Park car accident attorneys at the Hornsby Law Group can offer compassionate and zealous representation during what can be a difficult time for you and your family. Call our offices today for a free consultation.
Resource:
leg.state.fl.us/statutes/index.cfm?App_mode=Display_Statute&URL=0300-0399/0316/Sections/0316.305.html
nhtsa.gov/risky-driving/distracted-driving
https://www.hornsbylawgroup.com/been-in-a-car-crash-with-someone-uninsured-what-now/