Florida Slip & Fall Cases Can Be Difficult To Win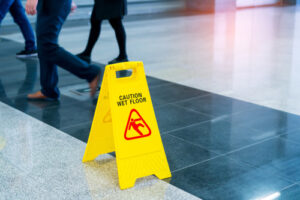 Slip and fall accidents are some of the most commonly seen personal injury cases in this day and age. However, they have become something of a joke; they are often assumed to be silly, avoidable incidents due largely to the victim's own recklessness. This could not be further from the truth, but stigma is one of the reasons why slip and fall accidents can be difficult to build a court case around. If you have been injured in this type of accident, it is possible to receive compensation for your injuries, but it can be a bit more difficult to do so if you have to go to trial to do it.
They Can Happen Anywhere
What people neglect to realize is that slip & fall accidents do not only occur in grocery stores or in the home, and they are not only the result of surface conditions (in other words, a foreign substance on the floor). Anyone can slip anywhere, especially if the place is not properly maintained, and they may slip for a number of reasons. Examples include parking lots with potholes, untreated ice on a sidewalk or floor, electrical cords or other items (especially if they blend in with the carpet or flooring), transitions from one flooring type to another – say, tile to carpet, unsecured ladders, and many, many more.
Because they can occur in so many places, for so many reasons, the slip and fall accidents do add up. They can be deadly, especially for elderly people – the National Council on Aging (NCOA) estimates that 1 in 4 people over the age of 65 have a serious fall every year, and the Occupational Health & Safety Administration (OSHA) estimates that slip & fall accidents are the second most deadly cause of accidental deaths in the United States, causing approximately 15 percent.
Roadblocks To Prevailing At Trial
Very often, if you are injured on someone else's land, you may be able to get them or their insurer to settle, avoiding court proceedings. However, if no settlement is able to be reached, your case will proceed to trial, and it is at this level that most slip & fall cases are lost (if they are lost at all). Florida modified its law regarding premises liability and slip and fall accidents a couple of years ago, and as a result, it is much more difficult for plaintiffs to succeed in establishing a defendant's liability at trial.
he law states that the injured person must prove "actual or constructive knowledge" of the hazard, and that they ought to have taken action to remedy it. In reality, it is very difficult for an injured person, especially if they are a customer in a business, to establish this. Constructive knowledge of this sort is usually established by showing that a foreign substance or other issue has been on the floor for a long time – but very few customers spend that long in a place of business, especially somewhere like a retail store. It can be difficult to establish the necessary knowledge if one only stepped in for mere moments.
Contact An Orlando Premises Liability Lawyer
While it is difficult to win a slip and fall case, it is not impossible, especially if you have an experienced attorney on your side. The Orlando premises liability lawyers at the Hornsby Law Group are well versed in these kinds of cases, and we will work hard for you and your loved ones to get the compensation you deserve. Call our office today to schedule an appointment.
Resource:
osha.gov/dte/grant_materials/fy07/sh-16625-07/slipstripsfalls.ppt