Florida Pedestrian Accidents Are Common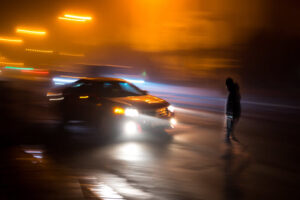 The urban planning think tank Smart Growth America has published its Dangerous By Design report for many years as of this writing. The report measures pedestrian safety in metropolitan areas throughout the United States, as well as recommending potential options to improve infrastructure. Florida has consistently ranked high on the list of the most dangerous states for pedestrians, with 2021's data placing it second. Florida pedestrians can testify as to the report's accuracy.
Metropolitan Areas Show Increased Fatalities
2021's data for pedestrian accidents shows a significant rise in fatalities, even though driving deaths for the year steadily decreased. One of the major reasons for this is that the COVID-19 pandemic exacerbated discrepancies between rich and poor (more "essential workers" were likely to be poor enough to not own a vehicle, but have to get to work somehow). People were also simply more likely to spend time outside.
This was especially true in urban areas. The Smart Growth America report listed 4 of Florida's metropolitan areas – Daytona Beach, Tampa-St. Petersburg, Jacksonville, and Orlando – in the top 10 for the most dangerous in the country, with the Daytona-Deltona-Ormond Beach area posting the highest upward change from 2020-2021.
Filing Suit
If you are involved in a pedestrian accident with a car or truck, it is likely that your injuries are quite severe, simply because of the size differential between you and a vehicle. Florida is a no-fault state when it comes to auto insurance, meaning that cases involving minor injuries are shunted away from court filings and toward filing claims with the personal injury protection (PIP) coverage every Florida driver is required to carry. However, cases involving severe injuries can usually proceed to court as normal.
Keep in mind that in some cases, you may even be able to establish negligence based on a concept known as negligence per se. Negligence per se is a theory that holds that if a person breaks a law designed to protect a certain class of people, and does so by injuring someone of that class, negligence is established as a matter of law. If someone breaks a traffic law designed to protect pedestrians by injuring a pedestrian, that proves negligence on its own.
Contact An Orlando Pedestrian Accident Attorney
If you have been involved in an accident as a pedestrian, you need an attorney who can protect your interests while you focus on getting your life back together. An Orlando personal injury attorney from the Hornsby Law Group can help you through the legal process, and work hard to get you the compensation you need. Call our office today for a free consultation.
Source:
smartgrowthamerica.org/dangerous-by-design/