Florida Slip & Falls Are Difficult To Prove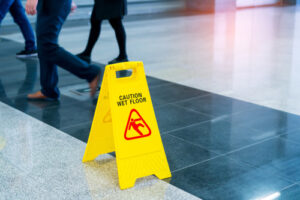 In Florida, slip and fall accidents are depressingly common, especially in places like retail establishments. Restaurants and grocery stores are at a high risk of having spills happen, and personnel are not always willing or able to clean them properly. However, unlike many other U.S. states, Florida's specific slip and fall statute establishes a burden of proof that can sometimes just be too high for the average injured consumer to meet on their own.
The Statute
The first sentence of the statute sets a very specific standard of evidence that a plaintiff must meet in attempting to prove negligence against a business defendant. It states that if a plaintiff slips on a "transitory foreign substance" in any business establishment, they must prove that the business "had actual or constructive knowledge of the dangerous condition and should have taken action to remedy it." There is quite a lot to unpack in that statement, but almost all of it establishes a heightened burden on the plaintiff, with less to disprove for the defendant.
Translated from legalese, this sentence means that if a person slips on something on the floor in a business that is not normally on the floor (for example, leakage from a refrigerator, a spilled drink, leftover slush or ice from boots in cold weather, or something else of that nature), they must be able to prove that the business either knew it was there, or that they should have known it was there. This is extremely difficult to do in many situations, simply because the plaintiff is most often a customer, who likely has just entered the premises. They have no way of knowing whether a spill has just happened (and thus no one would have a chance to know of its existence), or whether it has been sitting there untouched for some time.
All Is Not Lost
While this does complicate certain types of slip and fall cases, it does not mean that every slip and fall case will automatically be impossible to win. Sometimes, there may be a witness who can testify as to how long a foreign substance was on the floor. Sometimes the law may not actually apply to the situation at hand – the statute specifically dictates that it does not affect any common-law duty owed by a business (or person in control of that business), and common-law premises liability does hold business owners to certain standards depending on the status of the person coming onto their premises. (In other words, a business owner owes a different level of care to a customer than they would to a trespasser.)
Be advised that regardless of which law applies to your situation, there is a specific statute of limitations on filing this type of personal injury claim. In Florida, personal injury claims based on negligence (as any premises liability claim is) must be filed within four years of the date of the event/injury, or within four years of the date of discovery of the injury (or the date when you ought to have discovered you were injured). This is, so to speak, set in stone – if you delay too long, the statute will expire and you will be barred from filing suit.
Contact An Orlando Premises Liability Attorney
Slip and fall accidents are some of the most commonly seen in Florida, especially in summer months when heat sends more people inside and sets more things to melting. If you have questions about your slip and fall accident, the Orlando premises liability lawyers at the Hornsby Law Group are happy to sit down with you to try and answer them. Call our offices today to set up an appointment.
Resource:
leg.state.fl.us/Statutes/index.cfm?App_mode=Display_Statute&URL=0700-0799/0768/Sections/0768.0755.html