I Was In A Motorcycle Accident! What Now?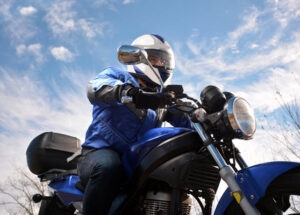 While automobile accidents are difficult and painful to experience, a motorcycle accident actually has a higher likelihood of causing long-term injury or death. Motorcyclists are less protected than automobile drivers, and many accidents happen because a driver may not even see a motorcycle next to them. If you have been hurt after an accident, there are certain motorcycle specific factors that you and your attorney must assess, in addition to the standard post-accident steps to take.
Your Injuries
The primary concern you should have is for your health, as one might think. Even if you do not think you are seriously injured, you should always consult a medical professional, both to be safe and to document the injuries you did sustain. Medical records are one of the most reliable ways to show the extent of the harm you suffered in the accident, and are generally admissible at trial unless there is a glaring irregularity.
It is also imperative to keep in mind that some injuries, especially to motorcyclists, who have far less protection than automobile or truck drivers, may appear at a later date. Whiplash is one of the most common complaints that only presents, in most cases, a few days after the initial accident. That said, limiting your interactions with your doctor to solely medical discussion is a good idea; anything you may say that can be construed as an admission of fault may be used against you.
Your Vehicle
The other concern you will have in the aftermath of an accident is likely for your property. Many operate under the mistaken assumption that motorcyclists are not required to carry insurance in the state, but in reality, Florida Statute 324.021 states that drivers, including motorcyclists, must be able to show financial responsibility for their vehicles. There are multiple ways to show that, including obtaining a certificate from the Bureau of Financial Responsibility or purchasing standard insurance from a Florida carrier.
It is extremely important to keep in mind that while motorcycle laws in most states mirror automobile laws, but in Florida this is not the case. Florida is a no-fault state in terms of automobiles, which means that regardless of who caused the accident, the injured party will be indemnified by their own insurance company. This law does not, as of this writing, apply to motorcyclists. This means that motorcyclists, in order to be compensated for their injuries, may have to bring suit against the defendant in a standard negligence suit.
Contact A Motorcycle Accident Attorney in Winter Park
Motorcycle accidents are more likely than car accidents to cause injury, for a multitude of reasons. If you are unfortunate enough to experience one, you are likely in significant pain, lost and confused. An experienced accident lawyer can help. The Winter Park motorcycle accident attorneys at the Hornsby Law Group understand what accident victims go through, and we are happy to help you through what can be a truly frightening time. Call us today to set up a consultation.
Resource:
leg.state.fl.us/Statutes/index.cfm?App_mode=Display_Statute&Search_String=&URL=0300-0399/0324/Sections/0324.021.html