Is Distracted Driving Really That Dangerous?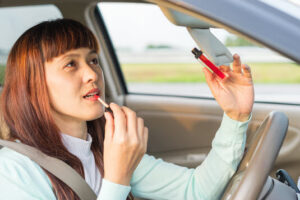 For a variety of reasons, auto accident numbers tend to rise each year in winter months, even if there is no snow on the roads. One of the major culprits is distracted driving, particularly around the December holidays – people leaving relatives' homes or friends' parties, happy and preoccupied, and not paying sufficient attention to the road. Because this type of behavior is a factor in so many car accidents, it is seen as particularly negligent if someone causes a crash in this way.
Causes & Effects
Florida Department of Highway Safety & Motor Vehicles (FLHSMV) statistics from 2020 estimate that approximately 48,500 crashes in the state during that year, with 2,756 injuries and 308 fatalities. This may not sound like much, but it represents roughly a 13 percent rise in fatalities from 2020 to 2021, and in terms of injuries, those in accidents involving distracted driving are more likely to be severe than those where distracted driving was not a factor. Distracted driving means that neither the driver nor the victim in an accident had any time to react before impact, which increases the likelihood of severe harm.
While 'distracted driving' is used as an umbrella for several more specific causes in these types of accidents (such as eating, fiddling with GPS or music, or turning one's head to talk to a passenger), by far the most common type is texting and driving. Texting is one of the most complete distractions that a driver can experience – it takes one's hands, eyes, and attention off the road all at once – and yet it still happens with sad regularity, despite Florida law criminalizing the practice.
Can I File Suit?
If you have been involved in an accident with a driver you believe was distracted, know that you may be able to file a claim against them for the injuries you suffered – but you can only do so if your injuries are particularly severe. Florida is a no-fault state, which means that instead of suing each other in court, Floridians must file insurance claims using the personal injury protection (PIP) coverage they are required to carry. You can only file a lawsuit in this type of case if your injuries are "significant and permanent."
If your injuries are particularly severe, you can file suit against the distracted driver, and it is important to keep in mind that you are able to file for both economic and non-economic damages. Economic damages are quantifiable – expenses like medical bills and lost wages are examples – while non-economic damages are less tangible, with the prime example being pain and suffering or mental anguish. Each case is different, and contacting an experienced attorney can help determine which damages your injuries might warrant.
Contact An Orlando Distracted Driving Attorney
Distracted driving is a behavior that is generally seen as negligent under the law, but if you are injured because of a distracted driver, it can be difficult to prove it. The Orlando car accident attorneys at the Hornsby Law Group can help you determine how best to proceed in your case, and what approach will fit you and your family's situation. Call our offices today for a free consultation.
Source:
flhsmv.gov/safety-center/driving-safety/distracted-driving/distracted-driving-crash-dashboard/