Wrongful Death On Florida Roads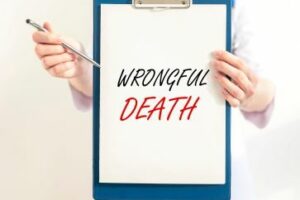 In 2020, Florida's Department of Highway Safety & Motor Vehicles (FLHSMV) statistics estimate that 3,098 fatal crashes occurred on the state's roads, with close to the same number of deaths resulting (3,332). Some of these deaths, unfortunately, happened as a result of the deceased person's negligence, while some simply happened, with no visible reason behind them. However, a small portion of traffic fatalities each year occur due to reckless behavior on the part of another person. If you have lost a loved one in an auto accident that you believe occurred because of another person's negligence, you may be able to file a claim against them in a court of law.
You Can File Suit
Normally, in Florida, when someone is injured in an automobile accident as a result of someone else's negligence, they are not able to file a lawsuit against that person unless their injuries are particularly severe. Florida is a no-fault state, which means that every driver is required to carry personal injury protection (PIP) and property damage liability (PDL) insurance, and use it to file claims for your damages if they do not rise to the level of "significant and permanent" injury. That said, state law allows people who have lost a loved one in a road accident to file a claim directly against the allegedly responsible party.
Technically, the deceased person's surviving relatives can file a wrongful death lawsuit against the person who allegedly caused the accident, but in reality, they must enlist the help of the decedent's personal representative (PR) in order to do so. The PR will file suit on behalf of the surviving family members, which can include the decedent's spouse, children, parents, or any other relative who was dependent on the person; the statute says anyone who relied on the deceased person for 'support and services.' They may also, in some respects, claim expenses on behalf of the decedent's estate, such as funeral costs.
Monetary Compensation Can Help Your Family
If you do file suit against the allegedly negligent driver, be aware that you can seek not only actual damages (that is, amounts that are quantifiable or easily calculated, such as medical bills, damage to your vehicle, or lost wages), but also intangible damages, for causes like pain and suffering or loss of quality of life. In theory, punitive damages are on the proverbial table, but only if you are able to establish that the defendant driver acted with malice or extreme recklessness, which is quite rare.
It is understandable that filing suit may very well be one of the last things on your mind after experiencing a serious loss, but it is important to keep in mind that while obviously, recovering monetarily will not bring your lost loved one back, it can help to ease the financial burden for you and your family while you focus on grieving and healing. However, even if you believe that the case for negligence is clear-cut, an experienced attorney can help to tip the scales in your family's favor, and take some of the load off your shoulders.
Contact An Orlando Wrongful Death Attorney
The loss of a loved one can be a life-changing event, and it can be helpful to have a dedicated Orlando wrongful death attorney on your side if you believe that their passing was caused by someone else's recklessness. The Hornsby Law Group can offer compassionate and understanding representation at a time when you may feel entirely adrift. Contact our offices today at (407) 499-8887 for a free consultation.
Source:
flhsmv.gov/pdf/crashreports/crash_facts_2020.pdf