Wrongful Death In Florida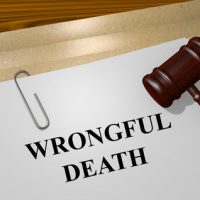 One of the hardest truths about life is that sometimes, our loved ones are taken from us abruptly. However, losing someone dear to you because of the negligence of another person can be especially hard to take. If this has happened to you, you or someone close to you may be able to file a lawsuit against the negligent person, under a legal theory known as wrongful death. Prevailing at trial cannot bring back your loved one, but it can sometimes give a sense of closure or a sense that a wrong has been righted.
A Failure Of Due Care
Florida's Wrongful Death Act is fairly similar to those in other states. It defines wrongful death as a death caused by the "wrongful act, negligence, default, breach of contract" or warranty of another person, if the person who died would have been able to recover damages had they not expired. This includes any death that happens within the state, including "on navigable waters."
Negligence is the most common method by which a person's surviving family can try to establish wrongful death. For example, if your loved one passed away after an auto accident, it may be possible to show that the other driver was operating their vehicle in a negligent manner. In general, if you are able to show that the defendant breached a duty to exercise due care, you have a good chance to receive compensation.
Know The Little Details
If you do decide to file suit, there are certain details of which you must be aware. Perhaps the most important is that Florida law limits the number of people who have the right to compensation in a wrongful death case – generally, the deceased person's surviving spouse, minor children, and if no others survive, the parents of the deceased. If you are a more distant relative, you may not be able to recover any tangible benefits.
It can sometimes be very difficult to determine whether it is worth it to file suit. The shock of losing someone close to you may make the idea overwhelming, or you may simply not believe that you would have a case – that is, that the deceased would have a case if they had lived. However, there is a strong case for trying, particularly if you have legal help on your side.
Contact An Orlando Wrongful Death Attorney
If you have lost a family member due to another person's negligence, recovering money damages may feel inappropriate or insufficient – but it can also bring closure and a measure of security. An Orlando wrongful death attorney from the Hornsby Law Group may be able to help you decide the best path forward for you and your family. Call us today for a free consultation.
Source:
flsenate.gov/Laws/Statutes/2020/0768.19