Do I Have A Case For Wrongful Death?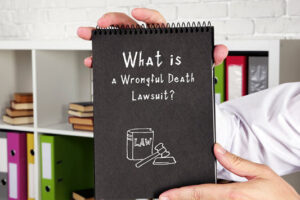 When a family member or loved one passes away suddenly, it can be easy to blame anyone and anything for their loss. Not every death is actionable – sometimes, accidents simply happen – but if you can establish that their death could have been avoided, you may be able to file a wrongful death suit against the person or entity who was responsible. It can sometimes be difficult to determine whether you have a case or not, but contacting an experienced attorney can help.
"Wrongful Act, Negligence, or Default"
There are two types of legal actions that fall under the umbrella of wrongful death. A standard wrongful death lawsuit can be brought if a person's death is directly attributable to the "wrongful act, negligence, default, or breach of contract or warranty" of any person. A survival action, by comparison, is a lawsuit in which a person's survivors try to press a claim the decedent had before their passing. The former is the more common type of suit seen in Florida courts.
So, for example, if a family member loses their life in an accident, and there is evidence that the accident occurred as a direct result of another person's negligence, surviving family members – under Florida law, usually the decedent's surviving spouse, minor children, and parents – can file a lawsuit against that person. It is the personal representative of the estate who will actually file the suit, but the survivors will be those who benefit if their suit prevails.
What Kinds Of Damages Can Be Recovered?
It is worth noting that even though you may be able to file suit legally, actually doing so may not be easy. It may be difficult establishing negligence on the part of the defendant, especially if no other witnesses exist; alternatively, there may be more than one defendant who might share in the blame. In addition, it can be confusing (if trying to file suit on your own) to determine the damages to which you are entitled. An experienced attorney may be able to clarify; as survivors in a wrongful death case may be able to recover:
The value of "lost support and services" from the date of the decedent's passing onward;
A surviving spouse may recover for loss of companionship and protection;
All the relatives of the deceased, including those who were depending on them for support and services, may (in theory) recover for mental pain and suffering; and
Any other cause of action deemed appropriate by the court.
These intangible damages are in addition to the tangible bills like medical and funeral expenses, which may also be recoverable. If the evidence of negligence is there, you have the right to seek these damages in court, and the right legal help can be an enormous advantage.
Contact An Orlando Wrongful Death Attorney
While no amount of monetary compensation can ever bring back the person you have lost, it can help to provide a bit of closure and safety for your family while you work through your grief. If you have lost a loved one due to another person's negligence, you may be able to recover for their passing, and an Orlando wrongful death attorney may be able to help. The Hornsby Law Group has handled many of these cases, and is ready to try and help you with yours. Contact our office today for a free consultation.
Source:
leg.state.fl.us/statutes/index.cfm?App_mode=Display_Statute&Search_String=&URL=0700-0799/0768/Sections/0768.19.html