Orlando Wrongful Death Cases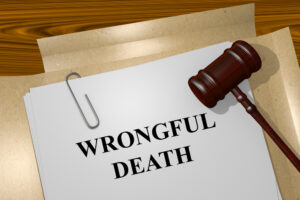 Sudden accidents and fatalities are sadly a fact of life, and losing the person is always a terrible cross to bear. However, sometimes you may lose a loved one due to the negligence or recklessness of another person – this is referred to as wrongful death, and if you can establish the link between your loved one's passing and the other person's negligence, you may be entitled to recover monetarily. Obviously, no amount of money will ever fix what has happened, but it can help you keep your head above water while you adjust to the changes in your life.
Many Cases, Few Damages
While there is no real way to quantify wrongful death, one can examine statistics to learn that the most recent available data shows approximately 13,000 accidental deaths in Florida that year. In addition to those deaths described as accidents, one can add medical malpractice-related deaths, motor vehicle accident deaths, and workplace fatalities. There are far too many opportunities in life for a person's negligence or recklessness to end the life of another person.
That said, not everyone who loses a loved one to another's negligence, recklessness, or wrongful act is legally allowed to recover damages in a wrongful death suit. While the lawsuit must be brought by the personal representative of the deceased person's estate, they can only do so on behalf of the deceased's surviving spouse, children, parents, or a relative or adopted sibling who was "partly or wholly dependent" on the decedent for support. Anyone else who has a more distant relationship is unfortunately excluded.
Establishing Liability
A civil wrongful death suit is different than a criminal case for murder or manslaughter. A successful wrongful death suit will yield monetary damages, rather than anyone losing their freedom. Depending on the specific nature of your loved one's accident, there are several different types of damages that may be recoverable. Examples include lost wages, loss of companionship or consortium (marital relations), the value of support and services lost, and general pain and suffering.
Generally, liability in a wrongful death suit can be established by showing four facts: (1) the existence of a duty of care for the plaintiff by the defendant; (2) a breach of that duty; (3) a showing that the plaintiff's tangible harm was (4) directly caused by the defendant's breach of duty. It can be difficult to show that all four exist, but with the right legal help, you can obtain the recovery you deserve.
Contact An Orlando Wrongful Death Attorney
Losing a loved one can cause not only emotional trauma, but financial problems and other issues that can take months and even years to rebound from. Money will not bring the deceased person back, but it can help you stay on your feet while you focus on trying to recover. The Orlando wrongful death attorneys at the Hornsby Law Group can offer compassionate and knowledgeable representation at a time when you may feel lost. Call our offices today for a free consultation.
Resource:
cdc.gov/nchs/pressroom/states/florida/florida.htm
leg.state.fl.us/statutes/index.cfm?App_mode=Display_Statute&URL=0700-0799/0768/Sections/0768.21.html
https://www.hornsbylawgroup.com/break-injuries-and-workers-compensation/