18-Wheeler Crashes In Florida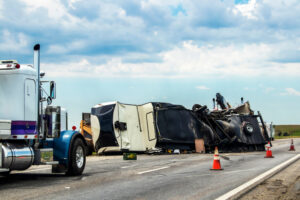 Some of the most dangerous accidents on Florida roads involve 18-wheelers and other large trucks. The sheer size of these vehicles can cause serious injuries and fatalities in even larger numbers than standard car crashes, and medical bills can rise to truly eye-popping amounts. if you are unlucky enough to experience this type of accident, it is important that you understand your options to seek recovery.
Statistics Show Grim Totals
The Federal Motor Carrier Safety Administration (FMCSA) estimates that the number of large trucks and buses involved in traffic accidents has risen approximately 42 percent between 2009 and 2017. Fatalities in these accidents have risen steadily as well, with a roughly 7 point rise (per 100 million vehicle miles traveled) between 2016 and 2017. Injury crashes involving large trucks have increased as well, but only by approximately 14 percent – from roughly 102,000 in 2002 to 116,000 in 2017.
The FMCSA also tracks patterns in these types of accidents, which can yield a lot of information – for example, the data shows that almost 60 percent of fatal large truck accidents happen in rural areas. Rural areas often have higher speed limits, which can in turn lead to more dangerous driving. Around one-third of fatal large truck accidents occur at night. Patterns can be seen in the data we have, which can in theory be used to teach drivers when to be their most careful.
If You Are Injured
If you have been injured in an accident with an 18-wheeler, there are two things that you should keep in mind. The first is that unless your injuries are quite severe, you may not sue the truck driver for your injuries, because Florida is a no-fault state. This means that after an auto accident, you must file with your own personal injury protection insurer (all Florida drivers are required to carry at least $10,000 in personal injury protection and $10,000 in property damage liability insurance). You may only file suit in court if your injuries are sufficiently severe.
The second thing to remember in a trucking accident, if you are able to sue, is that merely bringing suit against the truck driver themselves will likely not yield a very large recovery. However, if you are able to show that the truck driver was acting within the scope of their employment, you may be able to bring their employer into the suit under a theory of vicarious liability. Your attorney may be able to evaluate this possibility.
Contact An Orlando 18 Wheeler Accident Today
A trucking accident can be a life-changing event if you have been injured, and you need an experienced and compassionate attorney who understands the potential stakes. The Orlando truck accident attorneys at the Hornsby Law Group have years of experience in these types of accidents, and we are happy to put our knowledge to work for you. Contact our offices today for a free consultation.
Resource:
fmcsa.dot.gov/safety/data-and-statistics/large-truck-and-bus-crash-facts-2017
flhsmv.gov/ddl/frfaqgen.html
https://www.hornsbylawgroup.com/jackknife-truck-accidents-in-florida/